Drumstick Dash Event News
2021 Results
Thanks to all who participated in the 2021 Drumstick Dash Thanksgiving Day Events. Results are now available for the Drumstick Dash 10K and Pi Run at 2021 Results.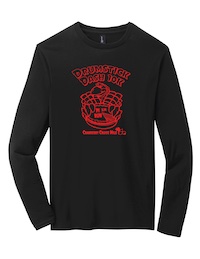 2021 Drumstick Dash Shirts Look Great
Check out the long sleeve shirts available to all who select the "With Shirt" option for the Drumstick Dash and the Pi Run.
Cranberry Cruise Mile and Cranberry Kids Runs Now Open for Registration.
Registration for the 2021 Cranberry Cruise One Mile and Cranberry Kids Half Mile is now open. The Cranberry races will start together in 2021 at 7:30 a.m. There is an option to receive a custom winter beanie and medals will be given to all youth participants.
Mile in My Shoes Returns as Drumstick Dash Charity Partner
Mile in My Shoes (Mims) continues to grow and expand in support of its mission - running together to change perceptions and change lives. Mims teams of Resident Members (people living in shelters and reentry centers) and volunteer Run Mentors have run thousands of miles side by side, completing races from one mile to a marathon(!) in pursuit of Mims vision: to build bonds, boost wellness, and spark social action by bringing the power of running to people experiencing homelessness and other barriers. The Drumstick Dash Thanksgiving Day events offer two ways for participants to support Mile in My Shoes:
Donate to Mile in My Shoes when you register to run
Participate in the Mims "FundRacer" program
Mims FundRacers register directly with Mile in My Shoes to participate in this fun way to earn a free entry to the Drumstick Dash or Pi Run all while raising funds for Mims. In addition to your free entry it is possible to earn additional rewards - the more funds you raise, the more goodies you can earn! Use this link to register to be a Mims FundRacer:
For more information about Mile in My Shoes visit their website:
All Awards Transfer to 2021
All awards for free or discounted entry to the 2020 Drumstick Dash events will automatically transfer to and be honored in the 2021 edition. If you were a fundraiser for Mile in My Shoes in 2020 and earned a free entry, this may also be used in 2021. Use the coupon code you received via mail or email to use your free or discounted entry.