Drumstick Dash Event News
2019 Registration Opens on June 19
Registration for the 2019 Drumstick Dash Thanksgiving Day Events will open on June 19, 2019. Participants will have the option of receiving no shirt, long sleeve shirt, or sweatshirt in the Drumstick Dash 10K and Pi Run. Participants in the Cranberry Cruise and Cranberry Kids can choose shirt or no shirt options. All youth under 13 in the Cranberry Cruise and Cranberry Kids events will also receive a medal. Sign up early for the best rates!
The Family Team Challenge is also returning in 2019. Start working on your team name as we have a special award for this category. The main Challenge is to get as many family members participating in any of the events as possible. Awards go to top three Family Teams with the most family members participating. Every event counts from the 10K to the Half Mile.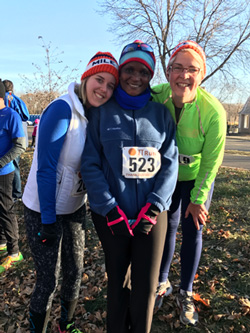 Mile in My Shoes is 2019 Charity Partner
Drumstick Dash is pleased to announce that Mile in My Shoes is continuing as our Charity Partner in 2019. Mile in My Shoes (MiMS) brings people from diverse backgrounds together through the power of running. MiMS run mentors are paired with people experiencing homelessness and other barriers. Drumstick Dash participants can support MiMS through direct donations at registration and also as FundRacers. FundRacers receive a FREE entry to this year's Pi Run or Drumstick Dash 10k. By signing up to "FundRace" for Mile in My Shoes, you will get a free entry in exchange for fundraising just $100 - and the more you raise, the more prizes you get - including an exclusive Drumstick Dash hoodie! For more info, and to register as a FundRacer - and get your code for your free entry, visit Mile in My Shoes.