Drumstick Dash Event News
Packet Pick-Up Options
Participants in the Drumstick Dash Thanksgiving Day events may pick up their race packets in advance or on race day as follows:
Saturday, November 17th from 11 a.m. to 4 p.m. at Mill City Running, 411 E. Hennepin Ave, Minneapolis
Wednesday, November 21 from 11:30 a.m. to 6:30 p.m. at Mill City Running, 411 E. Hennepin, Minneapolis
Race Day, Thursday, November 22 from 6:30 a.m. to 7:45 a.m. at the Lake Harriet Bandshell
Online Registration closes at noon on Tuesday, Nov. 20. We will have in person registration available at Mill City Running during the packet pick-up times.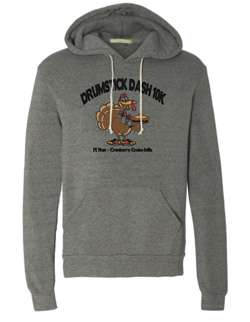 2018 Drumstick Dash Sweatshirts Are Ready
The 2018 Drumstick Dash sweatshirts are here! Sporting the same design as you will see on the Drumstick Dash event shirts, the 2018 Sweatshirts are as soft and cuddly as ever. New this year, participants have the option to "upgrade" from a shirt to a sweatshirt at registration. Quantities are limited so register soon. We will also have the sweatshirts available for sale at packet pick-up.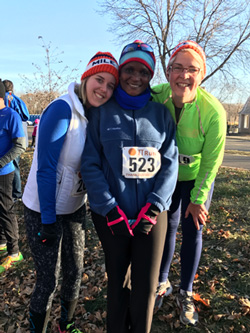 Mile in My Shoes is 2018 Charity Partner
Drumstick Dash is pleased to announce that Mile in My Shoes is continuing as our Charity Partner in 2018. Mile in My Shoes (MiMS) brings people from diverse backgrounds together through the power of running. MiMS run mentors are paired with people experiencing homelessness and other barriers. Drumstick Dash participants can support MiMS through direct donations at registration and also as FundRacers. FundRacers receive a FREE entry to this year's Pi Run or Drumstick Dash 10k. By signing up to "FundRace" for Mile in My Shoes, you will get a free entry in exchange for fundraising just $100 - and the more you raise, the more prizes you get - including an exclusive Drumstick Dash hoodie! For more info, and to register as a FundRacer - and get your code for your free entry, visit Mile in My Shoes.
2018 Family Team Challenge
The Drumstick Dash will again feature the Family Team Challenge. Awards will be presented for first, second, and third place. Start recruiting your family members now. The rules are simple. Everyone needs to be related somehow - they need not live at the same address or even in the same city. Team members can participate in any of the Drumstick Dash events including the Cranberry Cruise Mile and the Cranberry Kids Run. Awards are based on the largest number of Team finishers in any of the Drumstick Dash events. New this year we are going to give a special award to the best team name. Voting will take place by a select panel of 5 members in the week before the race.